I must admit, I rarely let one fly under my radar. But this time, I feel that T. Rowe Price (NASDAQ:TROW) did the trick. While the stock has remained dormant for about 4 years, 2017 was a big wake-up call for investors. Between January 2013 and January 2017, TROW lagged the S&P 500 by about 40% (15.58% vs. 56.98%). However, the stock jumped by 40% in 2017. It seems the asset manager is unlocking value after being ignored by the market for a while. Is it the result of an overheating bullish market looking for new preys, or is it really because the company has shown some impressive results since the very beginning but we just didn't see it? After all, TROW has been a model of performance since its IPO back in 1986: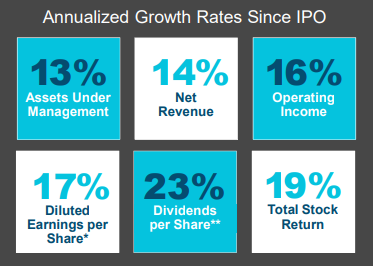 Understanding the Business
T. Rowe Price is one of the world largest asset managers with $991 billion in assets under management (as at November 30th 2017). What really matters for assets managers is obviously how much they manage (Assets Under Management, AUM), as they are making fees on investors' nest egg. By comparison, BlackRock (NYSE:BLK), the world largest asset manager, shows $5.7 trillion.