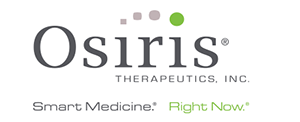 What Is Osiris Therapeutics?
Osiris Therapeutics (NASDAQ:OSIR) spun out of Case Western Reserve University in 1992 to leverage stem cell technology discovered by Dr. Arnold Caplan and his team of researchers.
By May 2012, Osiris received marketing clearance from Health Canada for the world's first approved stem cell drug (Prochymal).
In August 2013, we learned that Grafix demonstrated overwhelming efficacy in a landmark stem cell study for the treatment of diabetic foot ulcers. Grafix closes 3 times as many wounds as standard of care - the largest relative improvement ever reported in a multi-center, randomized, controlled clinical trial for DFU.